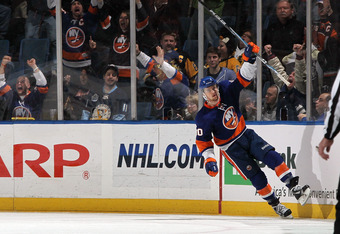 What a Friday night it was in Islander Country. Isles fans are still chanting Michael Haley's name in their heads, reliving Michael Grabner's goals and Tavares' goal, and well, the other six goals the Islanders scored.
Not to mention, the Isles and Pens racked up over 300 penalty minutes in this game, and you can be sure that there will be plenty of suspensions and/or fines levied on members of both teams. I'm sure NHL Disciplinarian Colin Campbell is having a field day.
No doubt the Islanders were seeking retribution against the Penguins, especially after their goaltender, Brent Johnson, literally knocked Rick DiPietro out of the lineup and Pens forward Maxim Talbot concussed Blake Comeau.
I'm glad the Isles stuck up for themselves, and I think they wanted to send a message to the league that they are no longer pushovers. However, I think the message was a little too clear.
After the Bruins-Canadiens game this week, which featured 14 goals, as well as a whole lot of fights and penalty minutes, Isles forward Michael Grabner tweeted, "anyone watching Habs/Bruins? what a show haha."
Well, looks like the Islanders wanted to put on a show of their own. And boy did they ever.
John Tavares obviously was all too impressed, calling the game "entertaining" but adding, "We'll take the two points." Like hell you will, John.
Penalties and fights aside, the Islanders absolutely rocked the Penguins offensively, potting nine goals in this game, the first time they scored more than eight goals in a game since 2003, when they beat the Chicago Blackhawks. It was 6-0 mid way through the second period.
As a result of this game, the Isles also now have three 20-plus goal scorers on this team: Michael Grabner, John Tavares and Matt Moulson. Tavares in particular had a great night, notching four points (1G, 3A).
I'd also like to point out that for the second straight game, all three of my "players to watch" from my preview came through. Grabner and Moulson both scored twice, and Josh Bailey finally got on the scoresheet, notching an assist, and well, more penalty minutes.
Bridgeport call-up Michael Haley had a great game too, scoring a highlight-reel goal, and getting a double game misconduct.
That's not a typo, the "double" belongs there.
Lost in all this is the fact that rookie goaltender Mikko Koskinen turned in an absolutely brilliant performance, this time making 35 saves, including some gorgeous ones. He picked up his second career win in three tries.
Isles play at Buffalo tomorrow at 3 PM.