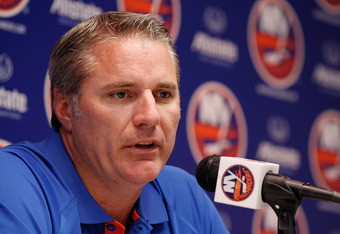 For 30 team executives, the NHL's trade deadline is perhaps the most nerve-wrecking time of the season.
With just hours left until the most climactic day of the regular season—the NHL trade deadline—
New York Islanders
GM Garth Snow surely has a lot on his mind.
He has many decisions to make, regarding who should stay and who can be dealt away, which "bubble players" deserve a second chance, and which ones to give up on.
He also needs to determine whether there are any valuable players and draft picks to be had or moved—and at what cost.
Simply put, for Mr. Snow and his staff, this is the most hectic day of the year. The question is, what will he do?
Snow is no stranger to the madness. As recent as 2007, his first year at the helm of the organization, he made an eleventh hour blockbuster move, sending
prospects
Robert Nilsson, Ryan O'Marra and a first round draft choice to the
Edmonton Oilers
, and reeling in one Ryan Smyth.
The trade put the Isles over the hump, leading to their first post-lockout playoff berth, clinching on the last day of the regular season.
However, that year was different, because New York was a team contending for a playoff spot, whereas the 2010-11 New York Islanders are…well, not.
The Isles are a rebuilding franchise, and Snow will not part with any of his young pieces (at least that's how it appears on the surface), and would prefer to give playing time to the youthful core of talented players he has assembled thus far, as opposed to bringing in established veterans.
Snow has also made his biggest moves already, having dealt Dwayne Roloson to Tampa Bay, as well as moving James Wisniewski to the
Montreal Canadiens
.
For those of you who expect Garth to be super-active during tomorrow's frenzy, I advise you to lower your expectations.
The Islanders may make a few minor moves, some tweaks here and there, but anything of the blockbuster variety is probably out of the question, especially because such a trade would likely have to include a talented young Islander such as Josh Bailey or even Blake Comeau.
Unless the Isles are getting back a bona-fide all-star, it would be incredibly foolish to part with those players. For more information on why doing so is not a smart idea, see Mike Milbury.
As far as the roster players who could be dealt by tomorrow's trade barrier, I'd say defenseman Radek Martinek, who could be dealt as early as tonight, is the likeliest candidate. The Isles' asking price is rumored to be a second round pick, but we'll see if teams are willing to take a chance on the oft-injured blueliner.
Rob Schremp, who was being shopped but has now been waived, is not likely to be traded, because there's simply no market for the shootout-only specialist.
There's one more Islander who could find himself on a new team by day's end, and that's Zenon Konopka. I personally hope Snow makes the correct choice and keeps him in an Islander uniform. Zenon is perhaps the proudest ever to wear that jersey, and he's become a vocal leader on this squad, and has also given 110 percent every time he's stepped on the ice. He's among the league leaders in face-off percentage, and has sole possession of first place in penalty minutes.
The biggest challenge for Snow and the Islanders, who still
have a shot
at the playoffs, will be to decide if they will be buyers, sellers or observers.
My hope for the team is that they don't decide to be any of said choices—I think there's a fair compromise to be made on deadline day.
Snow should not trade away young talent—be it Josh Bailey or Blake Comeau—unless he knows the Isles are getting an offer that is simply too good to pass up.
For me, that type of offer would have to include a prospect or young player of equal or greater value, and a first-round draft choice.
The Islanders should not feel compelled to deal away their whole future, even for a talented prime player (see Ryan Smyth). This is a long-term process, and the fact that the team is even remotely close to a playoff seed is in of itself a miracle—especially after the way this season started.
I think Radek Martinek is expendable, and can be moved at the right price. Further, I have no problem with the Isles moving Martinek, but if I'm Garth Snow, I'd better be sure I leave no stone unturned before pulling any kind of trigger.
Despite earier trade rumors swirling around Matt Moulson and P.A. Parenteau, it's highly improbable that either player will be moved now, considering they both recently received contract extensions.
Additionally, both Moulson and Parenteau had been rumored to be shipped to
Pittsburgh
, and now that the
Penguins
have traded for James Neal with the
Dallas Stars
, that option becomes unnecessary for the Pens.
This is a bit disappointing considering the
Stars
were able to get defenseman Alex Goligoski from Pittsburgh.
Keeping Parenteau over Goligoski is a questionable move, but that of course is assuming that the Isles would have made a similar move with Pittsburgh to the
Dallas
trade—which is a relative unknown.
Regardless, Parenteau has been productive for New York, and has earned another year on this team. You won't be hearing me complain about his presence on the roster.
Overall, it doesn't appear that the Islanders will be too busy come February 28th.
They may make a tweak here and there and moving Radek Martinek (should that happen) will probably be the biggest deal they make.
The way the team is playing now, that probably suits the Islanders and their fans just fine.
Comments are welcome.