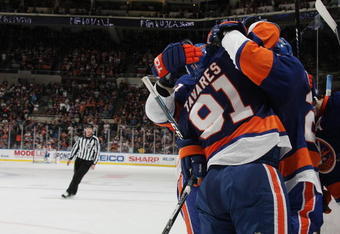 For the fans and supporters of the
New York Islanders
, this season seemed like yet another one to forget.
Another season to throw in the garbage can, along with the '09-10 season, the '08-09 season, the '07-08 season and pretty much every season between 1994 and 2001.
This year's edition of the New York Islanders' Hockey Club had sunk as far down as a team can go.
There were so many moments that challenged our stamina, our patience and, in some cases, even our ability to watch this team play "hockey."
Islander fans have gone through a lot over the course of the last several seasons and until a few weeks ago, we were sure that there was no end in sight.
But over the last few weeks, everything has changed.
The Islanders have shown life over the
last several games
, announcing that they're a pretty good team
too, and that they intend on playing like one from this point on.
They are in the midst of a four-game winning streak, during which they have beaten the likes of two playoff teams in
Montreal
and
Pittsburgh
, a contending
Buffalo Sabres
squad as well as the
Ottawa Senators
last night.
They have turned things around since Jack Capuano took over as head coach.
They have beaten top teams, such as the
Detroit Red Wings
, the
Penguins
, the
Tampa Bay Lightning
and the
Anaheim Ducks
.
They have, not one, not two, but
three
20-plus goal scorers on their team.
They have young, talented future stars in John Tavares, Kyle Okposo, Michael Grabner and Josh Bailey.
They have a newly re-signed Matt Moulson, who is just entering his prime and who is on pace for a second straight 30 goal campaign.
There are a few underrated defensemen on the team, such as Andrew MacDonald and Travis Hamonic. Mark Streit will be back either for the end of this season or definitely for next year.
Even if Rick DiPietro re-injures himself, Kevin Poulin and Mikko Koskinen have shown much promise and can be called upon to shoulder the load.
And last, but not least, there are more young, talented players who might very well be with the team next year, such as Nino Niederreiter and Calvin de Haan. In addition, the team will likely add another top prospect in
this year's draft
.
The Islanders have shown the type of never-say-die resiliency that the fans have been waiting for years to finally see. There is no longer any excuse not to be optimistic about the future of this franchise, at least from a hockey perspective.
Regarding whether or not they'll be in New York past 2015, I think they're going to be here.
They may not necessarily stay in Nassau Coliseum, but there are enough external possibilities, be it a new arena in Queens or the Barclays Center in Brooklyn (currently being built, will be the home arena of the Nets).
Even if owner Charles Wang and the town of Hempstead can't reach an agreement, the Islanders will have a place to play in the New York area.
But if they start winning and the fans fill the seats, they may just be able to stay right where they are, in Uniondale.
And by the looks of things, we're not too far away from those days.