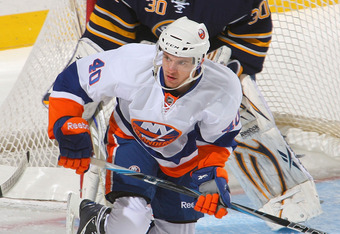 Evidently, the best cure for off-the-field issues in sports is winning. Well, looks like the
Islanders
have figured that out.
The Islanders came into today's game against the
Sabres
fresh off one of the most bizarre outings in the team's regular season history. There were questions and comments aplenty surrounding the Isles, and plenty of distractions. That usually spells disaster for any sports team, especially a young one.
But the Islanders didn't miss a beat, overcoming adversity both on and off the ice, and defeating the Sabres 7-6 in OT this afternoon.
The Islanders started the game strong, jumping to a 1-0 lead following a goal by, who else? Michael Grabner. However, the Isles' lead was short-lived, as they quickly relinquished the lead after Buffalo scored two unanswered to take a 2-1 lead.
There were several times in this game that the Islanders found themselves behind on the scoreboard, but fought back to tie the game, and I think that showed a lot of what this team is all about.
There are no quitters on the New York Islanders. Plain and simple.
Not to mention, I am now nine for nine in my "players to watch" segment of my previews. Michael Grabner turned in another phenomenal performance, notching a hat-trick, including the game winner on a breakaway during the extra frame. John Tavares also stayed hot, scoring another goal, and defenseman Travis Hamonic added an assist and played another strong game.
Kyle Okposo had three assists on the day, getting back on the score sheet, and in a big way, after a one game hiatus.
Frans Nielsen, who might just be the most under-rated player in the NHL, also had a big game for the Islanders, notching three assists as well.
Andrew MacDonald also had yet another unheralded performance for the Isles, especially in the second period, where he managed to stop Sabres forward Jochen Hecht from converting on a breakaway, without even committing a penalty.
While the offense may have been fantastic, the defense definitely had its sloppy stretches during this game, and the goaltending was far from pretty.
Mikko Koskinen, who started the game, was yanked from the pipes after yielding four goals on just 14 shots. Al Montoya dropped two catch-able shots (one of which ended up resulting in a Sabres goal), and was shaky at best.
Despite all this, one can't help but think that after all they've been through, the New York Islanders may finally have arrived. I think Islander fans wouldn't mind getting used to seeing this on a regular basis.
I know I wouldn't.