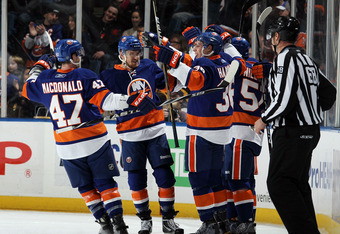 A few weeks ago, fans of both the
Islanders
and
Senators
were counting down until the end of the season.
Now, it's just the Senators fans.
The Senators are coming off of a 5-3 win against the
Oilers
in
Edmonton
this past Saturday night, just their second win since December 26th. They are the 29th best team in the National Hockey League, otherwise known as the second worst team.
The Islanders have had a dreadful season as well, and they are in 28th in the
NHL
. However, as bad as this year has been on Long Island, there is reason for optimism in Islander Country.
The Islanders have really come on of late, winning three in a row, and scoring 19 goals in that three-game span. They have won four of their last five games. They are coming off another impressive performance, a come-from-behind 7-6 overtime win over the then red-hot
Buffalo Sabres
on Sunday.
Michael Grabner, who was just recently named the NHL's first star of the week, has been on an absolute goal scoring tear. He has seven goals during this current win streak. He has 24 goals on the season, nine more than any player on the
Florida Panthers
, who cut Grabner after training camp.
John Tavares has also been on fire, scoring three goals in as many outings, since snapping a ten-game scoring drought.
The Sens lost captain Daniel Alfredsson to injury, and he has been placed on injured reserve. They also recently traded away Mike Fisher, who had been with the team for 11 seasons before being traded to the
Nashville Predators
last week. Both players were in the lineup last time these two teams met on February 5th at the Coliseum. The Isles won that game 5-3.
The Islanders, of course, had Kevin Poulin going for them in that game and he has been lost for the season due to a freak knee injury that occurred during warm ups, the very next game.
Goaltender Mikko Koskinen, who at the time was backing up Poulin and has started every game since the injury, has been returned to Bridgeport of the AHL and backup goaltender Nathan Lawson has been activated. Lawson will start tonight's game, as per Katie Strang of Newsday. Al Montoya, who was picked up in a trade with the
Phoenix
Coyotes
, will back him up.
The Islanders will play a very winnable game tonight. This is a team they can absolutely beat, as long as they play their game, and keep up the offensive tempo and resiliency we've seen from them in the last few games.
X-Factor
Offensive production clearly has not been a problem lately. However, defense has. There have been several stretches in the last several games where the Isles' defense has looked very sloppy in their own zone.
It doesn't matter if you're playing the
Detroit Red Wings
or the Italian National "B" Team. If you can't play responsibly in your own zone, you're going to get burned.
The Islanders need to play a strong game on D, especially because regardless of whether or not Lawson or Montoya is in between the pipes, they don't exactly have an All-Star quality 'tender between the pipes, and to make up for that they'll need to step up.
Players to Watch
Well, here we go. I've gone nine for nine in this segment since I've started writing these previews, and the Islanders have yet to lose a game during my Bleacher Report career. I can't promise anything, but I'll do my best. So here it goes:
1) Michael Grabner
As long as he keeps scoring, he remains in this category. Enough said.
2) Frans Nielsen
He is arguably their most underrated player. He is a future Selke Trophy candidate, and he will need to play like one in this game for the Isles to be successful tonight. He's also been involved in the scoring for the last few nights with a bunch of assists during the win streak. Look for him to play a good two-way game tonight and also record an assist or two.
3) Kyle Okposo
Okposo had three assists against the
Sabres
, and after a few games of adjusting since coming back from his injury, he has finally arrived. Look for him to stay red-hot in this game by either scoring a goal or notching some assists. Or both, that works too.