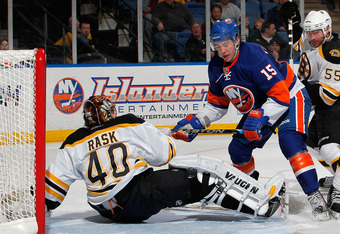 For 40 minutes tonight, the
New York Islanders
played solid hockey.
The first 20 minutes, well, that's a different story entirely.
The
Islanders
trailed 3-0 early on in this game and were completely out played in the first frame, being out-shot by the
Bruins
15-4.
Boston was winning the battles along the boards, beating New York to every loose puck and rebound.
Additionally, P.A. Parenteau, fresh off signing a one year contract extension, didn't have his best game, turning over the puck on several occasions, and making risky decisions all game long.
The goaltending wasn't pretty either. Nathan Lawson was yanked after surrendering a fifth goal to the Bruins, and Al Montoya was only slightly better, despite only giving up one goal.
The Isles' offense kept their team in the game, but it was never to be, as the B's responded with goals of their own after each Islander tally.
John Tavares stayed red-hot, potting two goals and creating opportunities all night. Josh Bailey played another strong game, launching a scorcher into the back of the net for his second goal since going 22 games without one.
Blake Comeau had a fairly decent night, notching two assists. He's been playing some very solid hockey of late.
Michael Grabner failed to get a point in this game, the first time in a while that's happened. Still, a good game for him. He had several chances to score, and was robbed by Bruins goaltender Tuuka Rask on several occasions.
The bottom line is, without that first period, this was a 3-3 hockey game. The Islanders took too long to establish some consistency, and they did not play a good defensive game. In fact, at the end of the contest, the Islanders out-shot the Bruins 37-34.
They sorely missed Matt Martin and Trevor Gillies in this game, as they were definitely behind in the physical game.
To the Isles' credit, they did prevent this game from getting further out of hand, and managed to ultimately cut Boston's lead in half.
The Islanders just need to put this one behind them, and focus on the next one.