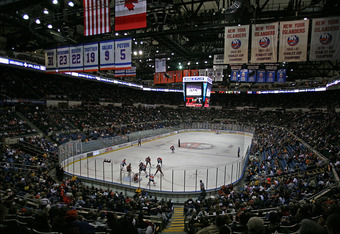 As we near the February 28 trading deadline, the
New York Islanders
sit near the bottom of the Eastern Conference.
But for the Isles and their fans, the standings no longer depict the real image of the team.
In fact, this is a completely different team than the one we saw for most of the season.
The New York Islanders Hockey Club has been red-hot over the last four games, and are showing no signs of slowing down.
They have won their last four games. Three of those wins have been of the come-from-behind variety, and the other was a complete blowout.
The team has scored 22 goals in that four-game stretch, an average of over five goals-per-game. There was a point during this season when it took the Islanders 14 games to accomplish that kind of feat.
Tonight, the Islanders return home, to the Nassau Veterans Memorial Coliseum, to take on the
Boston Bruins
, with a chance to stretch their winning streak to five games. I really hope that a lot of fans will show up in support of the team, in light of their recent success.
The B's currently find themselves in a three-game losing skid, having been swept by the
Red Wings
in a home-and-home over the weekend, and then dropping a heart-breaker to
Toronto
on Tuesday night.
However, the fact remains that the
Bruins
are still the third seed in the Eastern Conference, with 69 points on the season.This is going to be a tough contest for the Islanders.
The Bruins are a strong, physical team, and have four, capable offensive lines to roll, as well as an excellent defense, led by former Islander Zdeno Chara. They also happen to have Tim Thomas, who is enjoying another Vezina-esque season, with a league-leading 2.02 goals-against average, and a .938 save percentage
Newly acquired forward Chris Kelly will likely make his Bruins debut tonight. Kelly was traded from the
Ottawa Senators
immediately following their game against the Islanders, so this will be his second straight game against New York.
What do the Islanders have going for them?
Well, they've got Michael Grabner, a player I've started to compare with Alexander Ovechkin, not necessarily because he's as good of a goal scorer as "The Great Eight," but mainly for his ability to elude defenses with his speed and determination.
It's been near-impossible for teams to stop Grabner over the last month. In fact, they've barely been able to contain him.
The Islanders offense has shown some spark, and they'll need to keep it going against Boston tonight. They managed to score seven goals on
Sabres
goaltender Ryan Miller, and the Isles will have to hope they can run up the score against another elite netminder tonight.
This is just speculation, but if you put a gun to my head, I'd say that Nathan Lawson will start tonight for New York.
X-Factor
If the New York Islanders hope to win this game, they're going to have to match the toughness level of their opponents. As I mentioned above, the Bruins are a very physical team, and they can wear down the opposition early if they have the opportunity to do so
.
This is going to be hard for the Islanders, when you consider that their toughest players are currently serving suspensions. Matt Martin and Trevor Gillies would have been just what the doctor ordered for the Isles tonight.
Therefore, it will be up to players like Zenon Konopka and Michael Haley to step up and play physical.
Blueliner Milan Jurcina will also have to use their size, and play shutdown defense for the Islanders because you know Zdeno Chara will be doing just that for the Bruins, and the Islanders need to find a way to neutralize "Big Z."
I would also say that Matt Moulson will have to play his game—getting physical in front of the net, and going to the dirty areas to score for the Isles. The Bruins do not give up a lot of real estate, and you have to work hard for goals against this team.
Players to Watch
1. Michael Grabner
Call it superstition, but he hasn't stopped scoring since I first listed him here, right before the game against the
Montreal Canadiens
that kicked off this current win streak. He's not being taken off this list. End of story.
2. Milan Jurcina
I'm going with Jurcina for two reasons: First, he's been involved on the offense for the last few games, and actually led the team in shots during their last game. I think he'll play a similar role tonight.
Second, as I mentioned before, he's a big body, and he needs to be a physical presence in this game for the Isles to succeed. I say he will be up to the task.
3. Blake Comeau
Points absolutely come in bunches for Comeau, and he's been firing on all cylinders since returning from his injury. He's been playing well over the last few games, and I think he'll get his shots tonight.
UPDATE, 6:39 PM: Tuuka Rask will start for the Bruins, Wishart a healthy scratch.