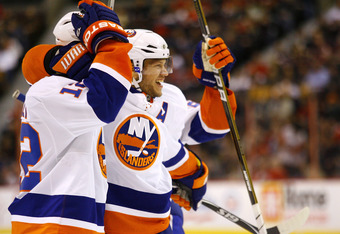 It just keeps getting better and better for this young Islander team.
Already on a three-game winning streak going into this game, they had a chance to keep the recent momentum going.
Boy, did they ever.
Though it certainly was not their best performance of the season, the
New York Islanders
were still able to escape with a 4-3 shoot-out win over the
Ottawa Senators
tonight at Scotiabank Place.
They scored timely goals, had a very solid defensive effort, and as a result, they now find themselves winners of their last four games.
Michael Grabner stayed red-hot, scoring a shorthanded goal for his 25th of the season. Grabner was also robbed on a beautiful wrist shot by
Senators
goaltender Brian Elliot during overtime. He now leads all rookies in goals scored, passing
San Jose
's Logan Couture who currently has 24.
Josh Bailey broke a 22-game goal scoring drought, scoring on a gorgeous shot from the face-off circle. Blake Comeau also scored, and he did so while diving from an improbable angle.
Kyle Okposo notched another assist, giving him four points in his last two games.
Nathan Lawson was also very steady for New York between the pipes. I don't think you can really fault him for any of the three goals
Ottawa
scored tonight.
I also thought Andrew MacDonald had another outstanding performance, and he was the best defenseman for the Isles tonight.
But perhaps the biggest surprise of the game came during the shoot-out, when Frans Nielsen decided not to go with his patented forehand-to-backhand move, and instead just moved in on Brian Elliot and just wrist one into the back of the net.
Elliot seemed just as shocked as we were, as you can tell by his positioning he was anticipating a backhand shot to the right side. Nielsen's goal proved to be the shoot-out winner.
There's a lot to like about this Islander team, but there were some disappointments tonight.
Let's start with the power play. It was absolutely abysmal tonight. They did not convert on one opportunity with the man-advantage in this game. The
Islanders
need to do a better job of setting up the power play in the offensive zone. It almost seemed as if there was no strategy.
If there was one, it didn't work.
I also thought Matt Moulson didn't have his best night. He is most effective when he gets in front of the net and goes to the dirty areas. He was not able to do so productively, and he needs to get back to playing his game.
Otherwise, this was a real solid effort by the guys in blue and orange, and they have really shown that there is a lot of potential for this team to be very good for the rest of this season, as well as the next one.