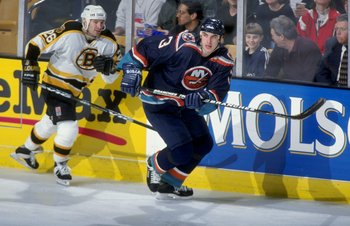 The New York Islanders have a rich tradition of excellence, pride, and accomplishment. They are one of the fastest professional sports teams to have ever grown up into a playoff contender, doing so just three seasons into their existence.
They have four Stanley Cups to boast, won an NHL-record 19 straight playoff series, and have a row of retired Hockey Hall of Famers' jersey numbers hanging from the Coliseum rafters.
However, the New York Islanders have also had a history of mishandling prospects, trading them too quickly, or passing up on drafting top prospects to instead pick other players (such as, the "better" Lindros, in 1994 when they drafter Eric's brother, Brett Lindros, in the first round).
Here is a list of some of the players who, had they been on this team, could have made the Isles' a contender already:
#14 Taylor Pyatt
Taylor Pyatt was drafted by the Islanders eighth overall in the 1999 draft. And while that in of itself may seem like a bad draft choice (which it was), Pyatt has nonetheless become an excellent role player in the National Hockey League.
He's the kind of player who will do anything to help his team win, no questions asked, and he does all the little things right. Every team needs a couple of guys like these, and the Isles are of course no exception to that rule.
At least, he was traded in what may have been the only good trade in Mike Milbury's career, which brought Michael Peca to the Island. However, Peca's stay on LI was short-lived, and the team never won a playoff series under his command.
#13 Raffi Torres
He has scored 20 or more goals only twice in his career, but he's a very solid two-way player, and he played an integral role in the Edmonton Oilers' Stanley Cup Playoff run in 2006.
Considering he was traded to the Oilers for Janne Niinimaa, the Isles' would have been better off with a player like Torres on their roster.
#12 Tim Connolly
You still have to wonder how his career would turn out if he was a member of the Islanders, and if he signed here long-term and performed.
#11 J.P. Dumont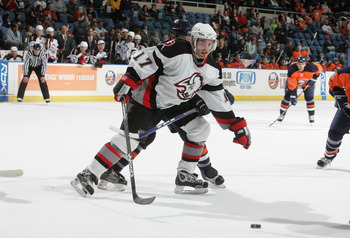 Dumont was drafted by the Islanders, but never got a chance to play with them at any point.
Considering there were so many seasons (in the 90's and late 00's in particular) during which the team had trouble scoring goals, it makes you wonder how much of a difference he would have made.
He has scored 20 or more goals six times in his career, and has scored several big goals, particularly in the postseason, during his career.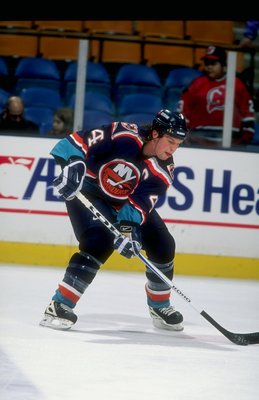 #10 Bryan McCabe
Bryan McCabe is one of several defensemen the New York Islanders should have never let go of. He is still a very capable offensive defenseman, and he could have really helped the Isles on the back end.
During his career, he has played in an All-Star Game, and he also represented Team Canada at the 2006 Winter Olympics.
McCabe's career high for points in a season is 68. The Islanders have not had a defenseman who put up that many points since Denis Potvin skated for this team.
#9 Todd Bertuzzi
Bertuzzi would only play a few seasons on the Island, before Mike Milbury shipped him out of town in a trade for Vancouver Canucks forward Trevor Linden.
He went on to have success with the Canucks, scoring as many as 97 points in a single season, and notching 60-plus points for several years in a row.
The Islanders certainly could have used his production.
#8 Mattias Ohlund
In 1994, for some reason we will never know, the New York Islanders decided to draft Brett Lindros in the first round of the draft.
There for the taking was a young, Swedish defenseman named Mattias Ohlund, a player the Islanders could have really used.
Ohlund was a valuable member of the Canucks organization, from the moment he was drafted up until last season, his first playing for another team.
#7 Eric Brewer
Brewer never ended up becoming the offensive star he was originally projected to be, but he did turn out to be a pretty good two-way defenseman in the NHL.
Obviously, there were those at Hockey Canada who believed that as well, as Brewer was selected as a member of the 2002 Gold Medal-Winning Team Canada at the Winter Olympics.
The Islanders certainly would have been much better having a responsible defenseman like Brewer patrolling their blue line.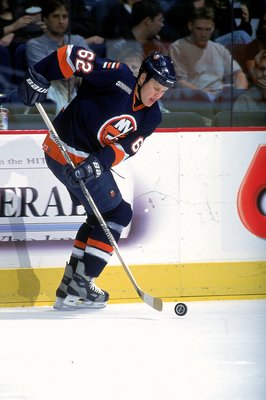 #6 Oli Jokinen
Part of one of the dumbest trades in Islanders history, when they shipped him to the Florida Panthers for Mark Parrish, the Isles gave away a future captain and scorer in Olli Jokinen.
Jokinen has had an excellent NHL career. He has had as many as 91 points in a season, and he has also been to the Olympics a few times, helping Finland capture a Silver Medal in 2006, and a Bronze in 2010.
The Islanders should have never let go of Olli Jokinen.
Another player the Islanders did not draft, but should have. In the 2000 draft, the Islanders selected goaltender Rick DiPietro with the first overall pick.
#5 Dany Heatley
It turns out, had they been patient with another goalie they had picked in a previous round (we'll get to him later in the slide show), they would never have had to draft DiPietro, and probably would have selected Heatley instead, as he was the consensus top choice available in the draft.
It goes without saying: the Islanders could have used a player like Dany Heatley, and still can.
#4 Jason Spezza
When, the Islanders traded for Alexei Yashin, they gave the Ottawa Senators a fairly early draft pick, which the Sens used to draft Jason Spezza, who was being touted as the "next one" at the time.
While he may not have necessarily lived up to the hype, he has still shown he is a phenomenal talent, and a player who was definitely not worth giving up for Yashin.
#3 Zach Parise
It's hard to imagine that the Islanders drafted Robert Nilsson ahead of Parise. There is not a single person in hockey who understands what the Islanders were thinking at the draft table that year.
While Nilsson has become an irrelevant NHL player, Zach Parise has become nothing short of a superstar.
He has shown tremendous scoring ability at a young age, and helped Team USA get a Silver Medal last year at the Olympics.
The Islanders should have drafted him. There are no ifs, buts, or anythings about it.
#2 Zdeno Chara
A lot of hockey fans don't necessarily remember that there was a time when Zdeno Chara was a member of the Islanders.
The Islanders drafted him, and despite displaying potential, they shipped him up (not directly to Boston) but to Ottawa, and then he ended up in Boston.
Chara is the prototypical Norris Trophy candidate. He can score, and can play defense. He's an elite talent. The Islanders should never have let him go, and certainly not for Alexei Yashin.
#1 Roberto Luongo
We had Roberto Luongo here. He was a future All-Star and Olympic goaltender. And we gave him up, for practically nothing.
Imagine what kind of team we'd be talking about if the Isles had Luongo in the net for them right now...
They should never have given him up. Doing so was, far and away, the dumbest move in team history.