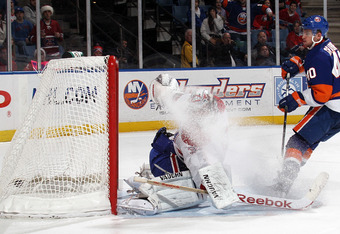 It would be a gigantic understatement to say that the
New York Islanders
have gone through a lot over the last few weeks.
Injury after injury suffered by goalie after goalie, not to mention the guy who was supposed to be the star waiver pickup, Evgeni Nabakov, decides not to show up, despite all that has happened to this unfortunate franchise of late.
Garth Snow would not comment on whether or not he reached out to Nabakov again yesterday, in light of the injury to Kevin Poulin. It doesn't really matter at this point. Garth was on record a few weeks ago as saying it was too early to start thinking about the upcoming
NHL
draft and free agency. It is no longer too early.
That being said, this team has made some progress, not that you can possibly get any worse than the Isles did during that losing streak (if you can even call it that) we had to endure earlier on in the season. They have played fairly decent hockey coming out of the All-Star break, and they will look to beat a very good
Montreal
team tonight, in the Bell Centre in Montreal.
This will be the first time the Isles face James Wisniewski this season, since being traded to Montreal. I was never a fan of trading Wiz, and am begging to know why Garth couldn't have gotten more for him, especially when you consider how much Brian Burke just got for Francois Beauchemin, who does not have as good numbers as Wisniewski does this season.
Montreal played last night, in a contest that was emotionally and physically draining for them. They yielded eight goals to
Boston
, and were involved in an incredibly scrappy game which featured a lot of fights and penalties.
The Isles have had a day to rest, and one would like to think that gives them an advantage over the Canadiens tonight.
You have to hope that the Isles have learned their lesson from Tuesday night, where they had also been off the day before, but were facing the
Maple Leafs
, who had played the night before. That didn't seem to give the Isles any sort of advantage, as they failed to use that to their benefit.
Mikko Koskinen will be in between the pipes tonight, simply because he is the best current goaltending option the
Islanders
have, not because he has done anything to merit this dubious honor.
Here are my 3 players to watch for the Islanders tonight:
1) Michael Grabner—I've said it before and I'll say it again...he deserves an extension and more playing time. He's almost at 20 goals on the season, plays with such speed and agility, and above all, passion. He's got the hottest hands on the team right now, and he had a big game against the Habs the last time these two teams faced off, on December 26 at the Coliseum.
2) John Tavares—He's been in a bit of a goal scoring rut lately, but has still been setting up goals for others. Look for him to shoot the puck a little more, but still make the nice passing plays. I think tonight's the night he breaks out of his slump.
3) Kyle Okposo—Since coming back from his injury, he has now been on the score sheet the last few games. You have to think he will keep that streak going tonight. If the offense produces tonight, he'll probably be a big part of that.
X-Factor: The Isles' Defense has to play extremely tight tonight. They know that Koskinen is not exactly what is referred to as "NHL-ready." They need to give him a helping hand, especially in the first few minutes of the game, and allow Mikko to shake his nerves and get his game going. There cannot be a repeat of what happened last game.