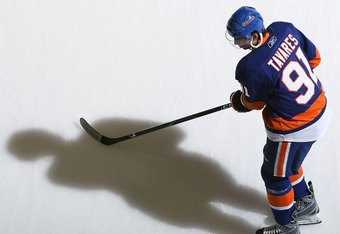 When New York Islanders GM Garth Snow stood at the podium in Montreal during the 2009 NHL entry draft, Isles fans held their collective breath, anxiously awaiting the moment we'd finally know who the team was going to select with its first overall pick.
The Islanders hosted a draft party at Nassau Coliseum that evening, and more than 10,000 fans packed the old barn on Hempstead Turnpike to watch these events unfold.
To this day, I believe that, had Snow chosen anybody but John Tavares, those fans would have set the Coliseum on fire.
Fortunately for the team, its fans and the building, Tavares' name was announced, causing an eruption of pure joy, not just in Uniondale, but all over Long Island.
While it was definitely a reason to celebrate, it was also, if anything else, a relief to know that the Islanders actually drafted the consensus top player available.
He was the logical choice, having broken Wayne Gretzky's (yes, that Wayne Gretzky) OHL scoring record, then single-handedly leading Team Canada to victory over Team USA at the World Junior Championships, just to name a few of his several accomplishments.
Remember, this is a team that has a history of trying to outsmart everyone else, usually producing undesirable results (ex: the "better" Lindros, Taylor Pyatt and Raffi Torres, Robert Nilsson instead of Zach Parise, etc).
Here we are, nearing the end of John Tavares' second season in an Isles uniform, and the 20-year-old has performed as advertised.
Despite scoring "just" 54 points in his rookie year (24 goals, 30 assists), he proved that he could contribute at the NHL level.
This was evident as early as his first game, when he notched a goal and an assist, despite the team falling to the Pittsburgh Penguins in a shootout.
Tavares has 55 points this year (he surpassed his rookie totals with an assist against Toronto this past Tuesday night) and he could break the 60-point mark by season's end.
He has quietly had a better season than fellow NHLers Joe Thornton, Dany Heatley and Bobby Ryan, and although he was bested by Matt Duchene (the third overall pick in the '09 draft) last season, he now has a five-point lead on the Avs sophomore.
As if his offensive achievements weren't enough, Tavares has vastly improved his defensive play this year and he's become more confident in all areas on the ice.
Feeding off that newfound confidence, John Tavares has produced some magical moments, having scored some gorgeous goals this year, not to mention his patented no-look passes. He's not only justifying the hype that surrounds him, he's thriving amidst it.
He is the centerpiece of one of the league's hottest lines, playing with wingers Matt Moulson and P.A. Parenteau, and while both players are talented, John Tavares makes things happen for the trio nearly every shift.
Although rumors persist north of the border, Tavares has consistently stated his commitment to this organization. He loves being an Islander and he's here to stay.
For the New York Islanders and their fans, that's fantastic news, because if Tavares is this good now, the future can only yield superior excellence.
That's the kind of potential that, when unlocked, will make John Tavares a star in the National Hockey League for years to come.
Comments are welcome.