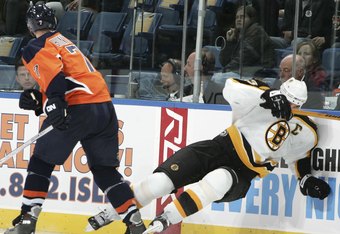 If there's anything we've learned about these
New York Islanders
over this season, it's that they've got heart.
There's a never-give-up attitude in that locker room, and everyone on that team stands up for one another.
Judging by their response to the
Pittsburgh Penguins
during the "Friday Night Fight-Fest," I have one thing to say about tonight's game:
The
Boston Bruins
are very lucky that Max Pacioretty isn't on the
Islanders
.
Pacioretty was checked by Bruins defenseman (and former Islander) Zdeno Chara, headfirst into the glass during a game against the
Montreal Canadiens
this week.
He was taken off the ice in a stretcher, and it was later revealed that Pacioretty suffered a severe concussion and also had fractured a vertebrae.
The
NHL
did not punish Chara for the hit (surprise, surprise), a move that didn't sit too well with most hockey fans, especially Habs rooters.
In fact the fan backlash in Montreal was so bad, the city's police force had to publicly request that people stop flooding the emergency hotline with demands to press charges against the hulking All-Star defender.
Air Canada even took a shot at the NHL's piggy bank, threatening to retract their sponsorship should the league continue to ignore the head injuries.
My take on the matter is that Chara should have been suspended. He's a smart, experienced player and he knows where he is in the hockey rink. He knew hitting Pacioretty against the boards in that spot was not the wisest choice, but deliberately did so anyway.
Regardless of my opinion, Chara will be in the lineup tonight which means the Isles will have to be alert of his presence whenever he's on the ice.
You can bet Zenon Konopka and Matt Martin are on full-alert, should Chara or any other Bruin even think about touching one of the Islanders' young stars.
The Islanders have been playing strong hockey of late, and they need to continue the trend with a solid all-around performance.
Al Montoya will start for New York, as per Katie Strang of Newsday.
Blake Comeau is questionable for tonight's matchup, after suffering neck spasms during yesterday's team practice.
X-Factor
The Islanders will have every opportunity to beat the Bruins tonight, as long as the offense clicks and the defense plays tight.
Some of the Isles may feel compelled to get physical tonight, as can be expected with Chara on the other side, but it's important for the team not to get too caught up in those intense moments. If they start taking dumb penalties out of frustration, Boston will take advantage, and this game will be over faster than it started.
Players to Watch
Matt Moulson
If the Isles are to score against Boston's tough defense, they'll have to drive to the net. Fortunately, that happens to be Moulson's forte.
Matt Martin and Zenon Konopka
As I mentioned before, these two have to be on high-alert. If Chara decides to get physical, Martin and Konopka will need to set a proper tone.
Al Montoya
When a team's goalie shows confidence, that attitude spreads throughout the entire roster. Montoya will have to deliver another strong performance in this game for New York to win.
Comments are welcome.