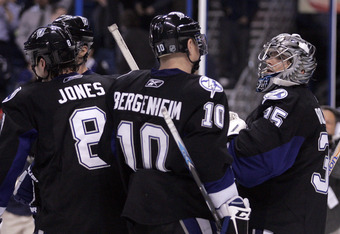 When the New York Islander take on the
Tampa Bay Lightning
tonight, they'll come across a few familiar faces, the most significant being Dwayne Roloson's.
This will be the first time the Isles play against Roloson since he was dealt to the
Lightning
on January 1st.
Facing off against Roloson is both an advantage and a disadvantage. The Isles certainly have the full scouting report on him, but likewise, Dwayne knows the
Islanders
and their shooting tendencies. He also happens to be an extremely effective goaltender, regardless of which team he's up against.
Additionally, ex-Islanders Nate Thompson and Sean Bergenheim know how to play against their former teammates.
True as that may be, Thompson and Bergenheim are not the players that New York should be keeping an eye out for. They should be worried about a guy named Steven Stamkos, an
NHL
sophomore from Markham, Ontario with a lethal shot and a flat-line heartbeat. Simply put, he's a natural sniper.
Martin St. Louis is another Bolt that the Isles will have to contain. He's an excellent goal scorer in his own right and, one of the most elusive players in the league.
Not to be outdone, Vincent Lecavalier is also one heck of a hockey player. He's not having his best season in 2010-2011, but he still has the talent to compete at an elite level. If the Islanders think they can overlook Lecavalier, they're likely to get snake-bitten.
The New York Islanders are coming off a 4-3 shootout win over the
Florida Panthers
and a win tonight could be momentum-building for this young team.
Al Montoya returns to the crease for the first time since a 6-3 loss to the
New York Rangers
at Madison Square Garden last week. He looked exhausted during that entire game, so hopefully he just needed a rest.
Jack Capuano said that although Rick DiPietro was ready to go in Tampa, he didn't want to push DP too soon.
Smart move, Jack.
X-Factor
Unless Montoya puts up an absolute barricade, the Isles are in for an offensive showdown. Tampa Bay has an arsenal of weapons and chances are, you'll get to see them on display during this game. They're most dangerous on the powerplay. If you put them up a man, either Stamkos or St. Louis will score.
The Islanders need to stay away from penalty trouble if they're going to win this game. They also need to be aggressive, but not to the point where they're giving up odd-man rushes. This is not the game to try and be fancy, because if any team can burn you in those situations, it's the Lightning.
Of course, it goes without saying that New York's offense needs to be up to par. Should this contest become wide open, they'll have to match Stamkos and Co. goal for goal.
Players to Watch
John Tavares
This game will be a showdown between two first overall picks, Steven Stamkos and John Tavares and, while Stamkos has already established himself as an absolute stud, the latter is still trying to make a name for himself in this league. Tavares certainly has an extra motive to play well tonight and I think he will.
Josh Bailey
With the season winding down, Josh Bailey needs to finish strong and signal that he's committed to improving his game. It's been a rather disappointing year for Bailey, highlighted by a demotion to Bridgeport (Islanders' AHL affiliate) earlier on. I think he makes that statement, starting now.
Al Montoya
It will be interesting to see if Montoya is fully rested and recovered from his last start. I honestly believe the return of Rick DiPietro may be just what he needs to raise his game. Montoya's always been in situations where there was another goalie waiting to surpass him, and you can bet he's not about to let that happen again. Perhaps recent events will spark an excellent performance in tonight's matchup.
Follow Daniel Friedman on Twitter: @dfriedman_isles
Comments are welcome.