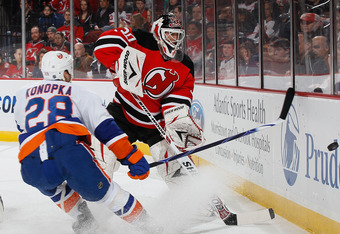 Following a climactic victory against
Boston
last night, the
New York Islanders
simply didn't have enough of the magic in Newark, where the
New Jersey Devils
defeated the Isles 3-2 in overtime.
Anssi Salmela, the unlikeliest of heroes, wired a shot into the top shelf sending the sellout crowd at Prudential Center into a frenzy and causing Isles fans to throw objects at their television sets.
The New York Islanders have dropped yet another game to the
Devils
after regulation time. There was a point during this season when notching a mere point would have left Islanders fans satisfied. That time is long ago.
It was a relief, if anything, to see the young Isles visibly frustrated after losing this one. The players bolted for the locker room as soon as the goal-horn sounded, clearly upset with themselves and feeling disrespected.
Don't worry, that's a good thing. It's the sign of a maturing hockey team.
The Islanders came out flat in period one, managing just three shots on Devils goaltender Martin Brodeur and falling behind 1-0 just over three minutes in on Jacob Josefsen's first career tally.
After a less than promising opening 20 minutes, New York turned it around in the second period.
Blake Comeau netted a shorthanded goal early in the period, tying the game for the Islanders. The goal was Blake's 20th of the year, a new career-high for the streaky winger.
Later in the frame, John Tavares would give the Isles the lead, deflecting an Andrew MacDonald point shot for his 25th goal of the season, establishing a new career-best (he had 24 last season).
Unfortunately, that lead didn't last, as David Clarkson shoveled a rebound past Isles goalie Al Montoya, knotting the game at two apiece.
One positive for the Isles was the penalty kill, and they were rather active tonight. The team took several penalties, some justified and others questionable.
Even Frans Nielsen, who never seems to do anything wrong (he has just 28 penalty minutes the entire season) got in on the action, receiving a 10-minute game misconduct.
Nielsen was complaining to referee Stephane Auger because players on the Devils were teasing Isles head coach Jack Capuano.
The team's strong shorthanded play, coupled with another phenomenal performance by Montoya, helped force the game to overtime. But it would be the Devils, not the Isles, who would come away victorious.
The clock struck midnight for the New York Islanders during the extra session as defenseman Anssi Salmela lit the lamp, ending the game and putting the Devils even closer to an improbable postseason berth.
Losses like these can sting for a while, and hopefully, having experienced that pain, the New York Islanders will step their game up a notch, because you can be sure they're tired of coming oh-so-close.
Comments are welcome.