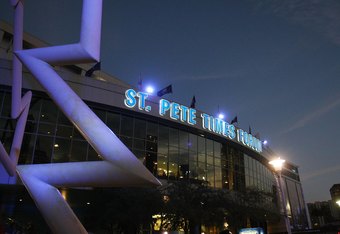 For the first time since March 11, the
New York Islanders
have won a hockey game in regulation.
New York overcame a shaky start, knocking off Dwayne Roloson and the
Tampa Bay Lightning
, doing so in entertaining fashion.
Before I continue, let me just state that Jack Hillen was easily the best player on the ice for both sides. He made several smart decisions with the puck and was really involved in the offense. It's been fun to watch Hillen play these last few games and his game is vastly improving.
Another player who's been playing a better all-around game is Matt Martin. Martin showed scoring potential in Sarnia of the OHL and has flashed that ability a few times this season. Off a great from
Jack Hillen (getting involved on offense once again), he moved in on Dwayne Roloson and roofed a backhander for his fifth goal of the year.
Josh Bailey
put home a rebound for his 11th goal of the season. It was nice to see Bailey finally score.
He's been struggling all season long and he's got much to prove in these final eight games.
The Isles also continued their penalty killing excellence, as Frans Nielsen scored his league-leading sixth shorthanded goal of the season. He is just one marker short of the
Islanders
' single-season record of seven shorties, set by Bob Bourne.
Kyle Okposo scored on a juicy rebound from Milan Jurcina's point shot and Michael Grabner sealed the victory with an empty netter, his 31st goal of the season. It's truly astonishing how he even makes empty net goals look spectacular, just because of his speed and explosiveness.
With the tally, Grabner now leads
San Jose
's Logan Couture by four goals. Michael's also just five points short of
Carolina
's Jeff Skinner, the rookie points leader.
Al Montoya showed that last week's 6-3 loss at MSG is behind him, turning in a strong performance and making 36 saves.
One area that the Isles need to work on is their discipline, especially late in games. As much as this team has had to deal with when it comes to the officiating, what transpired last night had nothing to do with outside factors.
New York simply took too many dumb penalties. The Isles almost handed the game back to
Tampa Bay
, despite holding a three goal lead.
To put things in perspective, the Islanders had a grand total of two penalty minutes by the end of the second period.
In the third frame, the Isles managed to rack up 16 penalty minutes. This is not the first time that's happened to this team and it may not be the last. However, younger players will make these mistakes and will learn from them. As the team continues to mature, their level of discipline will be higher.
Lucky for the Islanders, Al Montoya was there to save the day. Tampa Bay fired a barrage of shots at his net in that third period, 18 to be exact. Only one squeaked past the Islander netminder, a Dominic Moore tally from right in front of the net, off a gorgeous feed from ex-Isle Sean Bergenheim.
All in all, this was an impressive performance by the New York Islanders and, if they can stay out of the penalty box, there may be even more wins on the horizon.
Follow Daniel Friedman on Twitter: @dfriedman_isles
Comments are welcome.