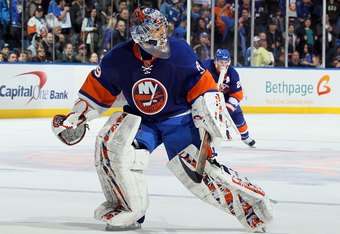 Just a few days since the loss at Madison Square Garden, the
New York Islanders
are looking to get back on track.
A pair of consecutive road wins would be just what the doctor ordered, wouldn't it?
Fortunately, this feat is entirely possible, as the Isles face two beatable opponents tonight and tomorrow, in the
Carolina Hurricanes
and
Florida Panthers
.
The fun starts tonight in Raleigh, with Al Montoya between the pipes and Jesse Joensuu in the lineup.
Tomorrow night however, Rick DiPietro will make his return in goal for New York, as they travel to Sunrise, Florida to do battle with the Panthers.
You knew DP was going to start one of these games, the only uncertainty was which contest it would be.
Carolina is struggling to break the top eight in the Eastern Conference and are desperate for wins. That could make for a tough challenge tonight, but one that the
Islanders
are certainly up to.
Eric Staal is a threat every time the puck's on his stick and beating Cam Ward is always difficult.
While the Hurricanes may pose a risk to the Isles, the Panthers aren't much of a threat. This past season is one that head coach Peter DeBoer, GM Dale Tallon and the entire team will want to forget.
It seems like nothing has gone right for the Panthers this year, from their lack of offensive production to the win shortage in South Florida.
To put things in perspective, Isles forward Michael Grabner, cut by the Panthers out of training camp, has more goals than anyone on Florida's roster.
But, with Rick DiPietro in the lineup, anything is possible. The defense will really have to step up when he's in goal, because you know there's going to be an adjustment period.
X-Factor
Honestly, the biggest hill this team has to climb has nothing to do with the opposition.
It will be interesting to see whether or not the Isles can shake off that dreadful performance against the
Rangers
early this week. That will be their greatest obstacle, one they will have to overcome psychologically.
These guys have bounced back in the face of so much adversity this season, so you have to think they'll be able to do the same in this case.
As long as they stick to their game, which means they establish the fore-check
early
, pile up the scoring chances and play tight defensively, there's no reason this team can't win both of these games, whether it's DiPietro or Kermit the Frog tending the goal crease.
Players to Watch
Michael Grabner
You can bet that Grabner is looking for some revenge against Florida, having been cut during training camp this past September. As for the game against Carolina, he's still just as much of a scoring threat, though as far as I know, Grabs has no personal grudge against the 'Canes.
Travis Hamonic
Regardless of how the Isles finish this year, one thing they'll be able to look back on with a smile, is just how far Travis came this season. After being thrown into action on an emergency basis, he quickly discarded all of our fears that perhaps he wasn't ready for the big show. He's emerged as an excellent defenseman for the Isles and he'll need to play well this weekend for his team to win these games.
Rick DiPietro
It will be interesting to see how DiPietro performs against the Panthers tomorrow night. I'm no goaltending coach, but I would advise him to stay in his net and not get involved in any "extra-curricular" activities such as fighting, fighting and fighting. Keep that glove up Ricky, but please don't take it off, that didn't work out too well for you last time.
He shouldn't have such a tough time against the anemic Panthers, but a win's a win and should he get one, it could do wonders for his self-confidence that's currently lacking.
Comments are welcome.