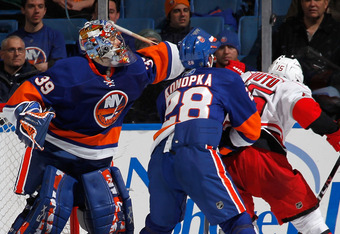 If there's anything we've grown accustomed to, it's that there's never a dull moment in Islander Country.
This morning started like any other, right?
We woke up, ate breakfast, sat through traffic jams on all different highways, basically going about our daily business.
Then, suddenly and without warning, it happened. Coffee cups were suspended in mid-air, arms flailing and mouths open wide in disbelief, as we collectively learned that Rick DiPietro was being activated from IR.
It's one of those things that no matter how hard you try to ignore, it still manages to stare you right in the face.
Suffice to say, a considerable percentage of Islander rooters secretly hoped that DP wouldn't be seeing an ice rink for the rest of the season.
However, now that he has indeed returned, the fans are left with that all-to familiar "oh no, not again" feeling.
His career hasn't exactly gone according to plan, suffering various injuries and setbacks over the last couple of seasons. Rick's inconsistent presence in the lineup has affected the team, in more ways than one.
Many Isles fans can still vividly picture the origins of this debacle.
It all started that night in Montreal, when DiPietro skated to the blueline to play a puck, only to collide with then-Habs forward Steve Begin.
DiPietro did all of this to himself. His aggressive style came back to haunt him, which gave the rest of the hockey world the chance to say "we told you so."
In fact, on draft day, one of the things that analysts were stressing about Rick, was that he would have to lower his level of aggressiveness at the NHL level, because he won't be able to get away with some of the decisions he made in college hockey.
Basically, they were warning us of what was to come and they couldn't have been more correct.
Simply put, he's been unable to return to All-Star form since that game, the type of thing that can turn a valuable asset into one that's depreciating in value.
Not to mention just how much the Islanders invested in his future, having signed DiPietro to a 15-year contract, an idea that never made sense at the time and still doesn't today.
I can see why Charles Wang felt compelled to get Rick under contract for the long-term. It's difficult for a small-market team to get their hands on a bona fide star goaltender via free agency, so now that the Isles had one in DP, they wanted to make sure he'd be a vital part of their success for years to come.
However, there's signing a player to a long-term deal and then there's what the Isles did with Rick, which is an entirely different ballgame. You don't sign Wayne Gretzky to a 15-year contract, all the more so Rick Dipietro. You just can't invest that amount of time and money in one player, because there's always the risk of injury.
Let me repeat that: There's always the risk of injury. Is there any greater proof to this than Rick DiPietro?
Surely the organization realizes the mistake they've made, but regardless, the fact remains that Wang signed the papers, leaving the team no choice but to honor DP's contract.
Don't get me wrong, I'd take Rick DiPietro over Nathan Lawson any day.
The fact remains, Charles Wang did not sign Ricky to a 15-year contract for him to be the longest tenured backup goaltender in franchise history.
DiPietro is coming back for the starting job. A position currently occupied by one Al Montoya and justifiably so.
The
Islanders
have won some big games behind Montoya and he has clearly emerged as the team's go-to netminder late in this 2010-2011
NHL
season.
Simply put, the last thing the Isles need is a monumental collapse and with Rick DiPietro between the pipes, anything is possible.
My take is as follows: If DP wants the starting role, good for him. He'll have to earn it.
It's not like it's between him and Joel Martin (Islanders ECHL affiliate starting goaltender), he's up against a red-hot goalie who has earned the respect of his teammates and coaches.
A player's price tag should not be the determining factor here. The better player should play, and if Rick DiPietro gets back to all-star form and becomes the better goaltender, then by all means he should start.
Until then, Al Montoya should absolutely be the starter and I honestly hope that Charles Wang, Garth Snow and the coaches understand that.
If the Islanders are smart, they will buy out the remainder of DiPietro's deal. The Isles don't become a worse team without him, they already have plenty of young quality netminders in the system, a top-flight goaltender in Al Montoya and a very good team.
Eventually, this entire issue will hit a boiling point and the Islanders will one day correct the problem.
Until then, Rick DiPietro is going to be given every opportunity to revive his career.
I'm sure that doesn't sit too well with Montoya, but this is a business and the most expensive assets of a business always end up at the forefront.
Unfortunately for the Islanders, this entire fiasco has been far from pretty business.
Comments are welcome.