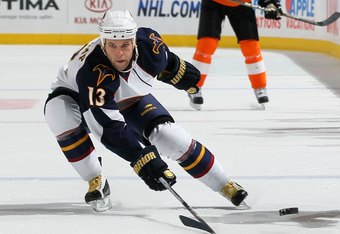 After defeating the
Tampa Bay Lightning
on the ice, the
New York Islanders
came home to lightning and ice.
Yesterday's horrible weather certainly made the Isles wish they were back in sunny
Florida
and, if Mother Nature isn't the reason why, maybe it's the fact that the team played so well during their Southeastern road trip.
The
Islanders
picked up five out of a possible six points during the swing, falling in overtime to
Carolina
, but bouncing back to beat the Florida Panthers and Tampa Bay Lightning.
Now the Isles are back on Long Island, looking to stay red-hot against the
Atlanta Thrashers
tonight at Nassau Coliseum.
Should they win against the Thrashers, they will have beaten four out of five Southeast divisional teams in less than one week.
Atlanta currently leads the season series 2-1, their last win coming on February 1st, when New York defeated them 4-1 at Phillips Arena.
Rob Schremp will make his return to the Coliseum, but as a member of the Thrashers. This will be Schremp's first time playing against his former team, since the Isles placed him on waivers before the
NHL
trade deadline, when he was subsequently claimed by Atlanta.
As a Thrasher, Schremp has managed just one regulation goal and another in a shootout.
With the regular season winding down, both teams' playoff hopes are slowly but surely dwindling, shifting the focus from postseason to pride.
The Islanders have much to be proud of the way they've turned things around here in the second half of the year. That being said, they're not quite done yet and are looking to make a statement that they'll be a force to be reckoned with in the near future.
Additionally, there are several players on the roster that know this is their "audition." If they don't play well now, it may change the way the coaching staff views them. You can bet that Josh Bailey and Bruno Gervais (who has an expiring contract) are working vigorously to make a lasting impression.
Jack Capuano has not yet announced his starting goaltender. I would think Rick DiPietro gets the nod and you can expect the Isles to alternate between DP and Montoya for the remainder of the season.
X-Factor
One area where the Thrashers are underrated is their ability to score. They have some very talented forwards, such as Evander Kane, Nik Antropov, Anthony Stewart and Andrew Ladd. Atlanta boasts an excellent blueline, featuring Dustin Byfuglien, Tobias Enstrom and Ron Hainsey. Ondrej Pavelec also happens to be a lights-out netminder.
The Islanders simply cannot take their opponent lightly. The Thrashers may not be in a playoff spot, but they were until a little while ago and they're still a very solid unit.
If they stick to their game plan and don't take penalties late in the contest, the Isles can win this one.
Players to Watch
John Tavares
Tavares didn't have his best game against the Lightning, so we can expect a rebound performance from him tonight.
Blake Comeau
He's played well against the Thrashers before and, with eight games remaining, will be trying to finish the season strong. Look for Comeau to be involved on the scoresheet in this matchup.
Zenon Konopka
Zenon's contributions don't always show in the stats column, but make no mistake, he's a major key to this team's success. His ability to win faceoffs in key moments and his compete level will help the Islanders win tonight in Uniondale.
Follow Daniel Friedman on Twitter: @dfriedman_isles
Comments are welcome.