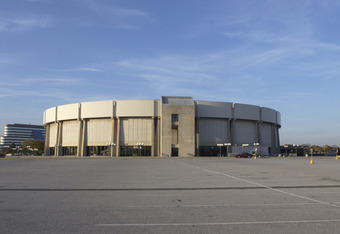 In front of over 15,000 fans at Nassau Coliseum, the
New York Islanders
were defeated by the
Philadelphia Flyers
by a final score of 4-1.
With the loss, it is now a mathematical certainty that the
Islanders
will miss the playoffs for the fourth consecutive season.
Coming off a horrendous outing against
Atlanta
on Thursday night, the Isles needed to correct two major issues: Their inability to generate shots on goal and inefficiency on the powerplay.
Well, the team solved one of those problems, but to no avail.
The Islanders certainly had the wheels turning last night, firing a total of 37 shots at the Flyer net.
Unfortunately, 36 of those shots could not evade Sergei Bobrovsky, the exception being Blake
Comeau's 21st goal of the year, which came during the first period.
The shot totals were a positive for the young Islanders and if they continue to put that many on net, the goals will undoubtedly come.
Not only were the Isles getting their chances, they also held a major edge in shots-on-goal, holding Philadelphia to just 15 through 40 minutes of play and out-shooting the visitors 15-4 during the second frame.
However, what the Flyers lacked in quantity, they made up for with quality, as most of their shots were excellent scoring chances.
To the Isles dismay, the goals that were scored against them did not come from those quality opportunities.
Enter Rick DiPietro.
In a game where DiPietro did not have to work very hard, he looked completely zoned out, letting soft shots roll past him and getting caught out of position a few times.
DiPietro has a lot of work to do in the offseason, to say the least.
Of course, his poor play does not excuse the Islanders' lack of offensive production (though in their defense, they were robbed by Bobrovsky on several occasions), but it certainly did little to keep New York in the hockey game.
The powerplay was ineffective once again, as the Islanders failed to convert on any of their four opportunities.
In case you were concerned, there was certainly no shortage of fights during this tilt. Micheal Haley, Zenon Konopka and Matt Martin all dropped their gloves at some point during the game, with Haley doing so just two seconds in.
James van Riemsdyk, a native of
New Jersey
, notched his first career hat-trick and Jeff Carter also scored for the Flyers.
Philly has now won 20 of the last 21 contests between these two divisional rivals.
With just six games remaining on the schedule, it's time for the New York Islanders to show some heart and finish the season on a high.
The best way to do that is to shake last night's game off and move on to the next one.
Follow Daniel Friedman on Twitter: @dfriedman_isles.
Comments are welcome.