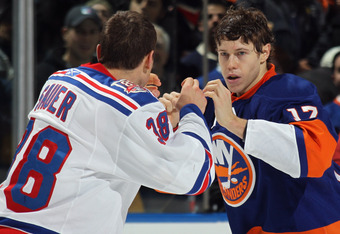 I don't know what Jack Capuano's office looks like, but I'm fairly certain that somewhere in that office, there's a calendar.
If I had to guess, I'd say the date "March 15th, 2011" is probably circled on that calendar, because on this day, the
New York Islanders
take on their rivals from across the Hudson River, the
New York Rangers
.
While this is not a unique occurrence (the Isles and Blueshirts face each other eight times per season), tonight's contest, as well as the final meeting between these two teams (March 31st at Nassau Coliseum), will have a different look and feel than its predecessors, because the New York Islanders have done a lot of right things since the last time these rivals took to the ice against one another.
In many ways, it seems like we've been watching a completely different hockey team in the second half of the season.
Everything has changed, from the maturation of the young core to the stellar play of goaltender Al Montoya, and as Chris Botta of Islanders Point Blank said, they've been just as good as any team in the National Hockey League these days.
The New York Rangers are currently in a playoff spot, despite struggling to find consistency all season long.
However, over the last several games, the Blueshirts have pulled off some big wins, bad news if you're the
New Jersey Devils
,
Carolina Hurricanes
,
Atlanta Thrashers
or
Toronto Maple Leafs
, all teams fighting for a post season berth.
Of course, the Isles are in that conversation as well, though the team is 11 points behind the eighth-seeded Rangers.
What we have here, is a case of an irresistible force on a collision course with an immovable object, as both New York teams are red-hot at the moment, which should make for some fantastic hockey in this one.
But the most interesting storyline of tonight's game might be Al Montoya, the Islanders' goaltender, facing the team that drafted him, the New York Rangers, for the first time.
Al has been nothing short of a savior for the Islanders, posting a 7-2-3 record, a 2.09 GAA and a .930 save percentage, since coming over from a trade with
Phoenix
.
The Rangers originally selected Montoya with the sixth overall pick in the 2004 NHL Entry Draft, and though he was originally penciled in as the goaltender of the future on 34th Street, the emergence of Henrik Lundqvist changed everything, and Montoya was inevitably shipped out of New York, to the Phoenix Coyotes.
Now a member of the Islanders, Al Montoya has made the most of his opportunity, and you can bet he'll be doing whatever he can tonight, in order to ensure that the Rangers regret losing faith in the young goalie.
X-Factor
For the Islanders to win this game, they really need to do one thing, and that's shoot the puck, early and often.
The Rangers win games because of their shot-blocking and their goaltending, but if you can pile on the scoring chances, eventually, you're going to break through. No team can block every single shot, and Henrik Lundqvist is beatable if you wear him down early on.
I'd also say that in order for the Isles to come out on top at Madison Square Garden, Sean Avery needs to be non-existent, as far as the Islanders are concerned. If they let him get under their skin, it could lead to the team taking unnecessary penalties, which could spell their demise.
If the Isles want to be aggressive, they should absolutely do so, by all means. But they don't need to waste their time focusing on Sean Avery.
Players to Watch
Al Montoya
It goes without saying, Montoya's looking to make a statement tonight against his former team. He's going to want to show Lundqvist and the Rangers that he's a pretty good goalie too, and when his game is on, the Islanders usually respond favorably.
Matt Moulson
Moulson didn't have a very positive game on Saturday night against the Devils. He was snubbed of his 30th goal of the season, only to be hit in the face with a puck, adding injury to insult. He'll be looking for number 30 tonight, and I say he'll get it.
Kyle Okposo
We've seen Kyle play well against this team in the past, and if the Islanders intend to win this game, he needs to be effective. The Rangers are a defensively-sound team, but it's very tough to knock him off the puck when it's on his stick. He needs to be strong tonight and I think he'll be just that.
Comments are welcome.