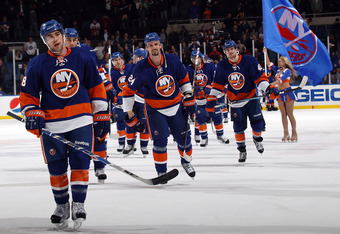 As it turns out, the fourth time ended up being the charm for the
New York Islanders
.
After failing to secure their lead three times in this game, Radek Martinek and Blake Comeau made sure this one ended in the Isles' favor.
Martinek launched a blistering slapshot from the point, which was deflected into the net by Comeau, giving their team a huge 4-3 win over the
Maple Leafs
in overtime, at Nassau Coliseum.
Michael Grabner, Zenon Konopka and Frans Nielsen also lit the lamp for New York, which was playing in an extra session for the second consecutive game.
Zenon has just eight goals in 181 career National Hockey League games. He's the hardest working player on the team, he wins key faceoffs, hits and fights. It was nice to see him be rewarded with a goal.
Al Montoya played a very solid game, making some big saves for the
Islanders
.
As if blowing the lead wasn't frustrating enough, the Isles also hit five posts tonight, and the zebras were certainly not on their side either.
The Leafs got away with a couple of questionable hits, especially when John Tavares was clipped in the head, with nothing called.
The Parenteau-Tavares-Moulson line did little in terms of point production, but were bailed out by New York's depth forwards.
Matt Martin had an opportunity to score on a penalty shot, only to be denied by Maple Leafs goaltender James Reimer.
Reimer was very sharp for Toronto, denying several quality Islander scoring chances.
This was a big win for New York, defeating a Maple Leafs team that not only had the Isles' number over the last few meetings between these two squads, but also had caught fire of late.
Safe to say, the Islanders have, to an extent, put out that fire.
The New York Islanders are now 10 points out of a playoff spot, and if anyone thought the team would be in any position to make that kind of a statement this late in the season, I am certainly impressed with you're level of psychic knowledge.
The rest of us Isles fans will just continue to sit here as our jaws collectively drop.