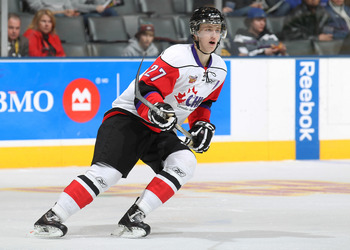 The National Hockey League conducted it's Draft Lottery last night, which means the selection order has been determined and will go as follows:
1) Edmonton Oilers
2) Colorado Avalanche
3) Florida Panthers
4) New Jersey Devils ($#%&!!)
5) New York Islanders
6) Ottawa Senators
7) Atlanta Thrashers
8) Columbus Blue Jackets
9) Boston Bruins (from Toronto Maple Leafs)
10) Minnesota Wild
11) Colorado Avalanche (from St. Louis Blues)
12) Carolina Hurricanes
13) Calgary Flames
14) Dallas Stars
Spots 15-30 will be determined based on what happens in the playoffs.
The Devils, who had approximately a 3% chance of winning the lottery, did just that, leapfrogging from 8th to 4th in a shocking turn-of-events. We can sit here and clamor how unfair it is that New Jersey always seems to have the hockey gods smiling down upon them, but, at this point, it's just meaningless rhetoric.
Meanwhile, the Isles, who finished fourth in the league standings, were bumped into the #5 slot.
Personally, I don't see a dramatic difference between 4th and 5th, especially because the player they need would likely still be available in the team's current draft position.
Adam Larsson will be off the board by pick three, at least in my humble opinion, and there are other quality blue-chippers to be had throughout the first round.
If you want to know my preference, I'd like to see Niagara (OHL) defenseman Dougie Hamilton receive an Isles sweater on draft day. I think he'd be a perfect fit for this team and is exactly what they are missing in their prospect pool (and on their NHL roster, as well).
Hamilton's a big defender with size, strength and offensive ability. Think Jay Bouwmeester (Calgary Flames), but with more upside.
TSN had him ranked 8th, as of last night, but he should be at the top of Garth Snow's list, which is the only one that really matters.
The Islanders have plenty of defensemen who are 5"10, 5"11 or six feet, possess strong puck-moving skills, and that's it. What they lack is an imposing presence, someone who worries the other team every time he's on the ice.
It's entirely possible that Snow and Co. determine they can nab Hamilton with a later pick, sparking the Isles to trade the 5th pick, in exchange for another top-10 one and more. Think back to the Josh Bailey draft. I can absolutely see that type of scenario unfolding.
My main point is that drafting fifth instead of fourth is not the end-all/be-all, and far from it.
Follow Daniel Friedman on Twitter: @nyifaceoff360
Comments are welcome.