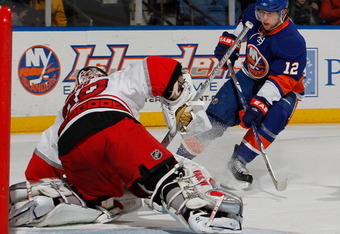 Following a game in which the New York
Islanders
failed to protect a third-period lead, took unnecessary penalties, could not get their power play going (again) and were not very impressive on defense, there should have been a sense of major disappointment in Islander Country.
Apparently, as long as the loss hurts the
Rangers
' playoff chances, this is an acceptable outcome.
In fact, there are people I know of who were literally rooting for the
Carolina Hurricanes
tonight and, to be honest, it made me sick to my stomach.
Quite frankly, I don't buy it.
This is merely my opinion, but take it however you wish: If you're a fan of a team, you simply cannot root against it.
You should always want your team to win. Especially when it's a young group of players, as is the case here on Long Island.
The maturation process is ongoing and part of that process is developing a winning attitude.
Don't misunderstand me. I'm not complaining about the impact this now has on the Rangers' playoff chances, but I wasn't about to ask for an Islander loss, either.
If you think that tonight's sellout crowd of 16,000-plus at Nassau Coliseum showed up to watch their team choke, think again.
If you think the players in that locker room were out there to spoil things for their rivals tonight, you are severely mistaken.
"But, if the Islanders lose, the Rangers might not make the postseason!"
Mazel Tov.
Even if the Blueshirts do in fact place in the top-eight, that should not be an issue of concern for Isles fans.
Our crosstown rivals are not likely to make a deep postseason run and, honestly, if you're worried about the trash talk, I say let the Ranger fans have there time in the sun. This Isles team is going to be a threat very soon, not to worry.
The way the Isles are progressing, fans will have plenty to respond with, come next season.
Rangers fans have been ridiculing the entire rebuilding process from the very beginning and they're in for quite a shock in 2011-2012.
As far as tonight's contest was concerned, this was a good outing that went sour, and fast.
Despite falling behind 1-0 off a goal by Jussi Jokinen, the Isles responded, getting on the board via Jesse Joensuu's excellent wrist shot, knotting the game at one-apiece.
In the second period, John Tavares tipped a shot past
Carolina
goaltender Cam Ward for his team-leading 64th point of the season, putting the Isles ahead 2-1.
The lead would not stand, as the
Hurricanes
notched three unanswered goals in the final frame, sinking the Islanders and coming away with the victory, by a final score of 4-2.
Al Montoya made 22 saves, but could not bail out his team. To be fair, two of the third period goals came off deflections and were therefore difficult to read.
Frans Nielsen, who did not dress as a precaution (smart move on the Isles' part), was the recipient of the Bob Nystrom Award for team dedication in 2010-2011. Nystrom presented it to him prior to the start of tonight's match-up.
*This article is also featured on thecheckingline.com
Follow Daniel Friedman on Twitter: @dfriedman_isles
Comments are welcome.