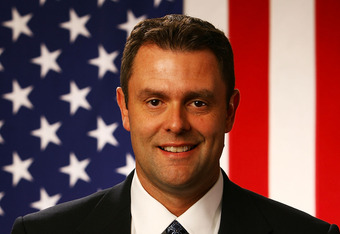 Scott Gordon Gone in a "Flash"
Scott Gordon joined the Toronto Maple Leafs yesterday, signing on as an assistant coach as part of Ron Wilson's staff.
This development didn't shock me one bit, and it shouldn't come as much of a surprise to anyone. We knew Gordon had no intentions of remaining a "Special Advisor to Garth Snow" for the next several years.
His relationship with Leafs GM Brian Burke is a strong one, as Gordon has been recruited to Team USA's coaching staff for recent international tournaments, such as the 2010 Winter Olympics and, even more recently, the World Championships.
USA Hockey's GM? Brian Burke. The head coach on that Olympic squad? Ron Wilson.
I wish Gordon the best and only hope that he can make a difference as an assistant coach in Toronto. He'll need all the luck he can get, he's entering a world of full of tension and high-expectations.
A friend of mine put it best:
"In the forthcoming battle of Kessel's ego vs. Gordon's demands, someone's gunna lose, and I don't think it's the guy that got traded for Tyler Seguin."
Needless to say, it will be interesting to see how things play out.
Isles Not Re-Signing Martinek
As was reported by Chris Botta of Islanders Point Blank, Radek Martinek will not be back with the Islanders next season, per a league source. I had been told by a reliable source that someone he knew had heard directly from Radek that he would be moving on.
Martinek was never a point-producer, but I felt that, until this past season, he was a strong defensive-defenseman. He was very responsible in his own zone and was a stable force on an oft-unstable Isles defensive squad.
No doubt, his compete level is not as high as it once was, and, being that the Islanders are a team in transition, it was time for Radek and the organization to move on. Snow and Capuano will now be able to give some of the younger blueliners in the system a serious opportunity to make the roster out of training camp.
Salary Cap Rising, TSN Says
The NHL Salary Cap will increase by $4.6 million, from $59.4 to $64 million (U.S. Dollars). The cap floor will be rising as well, going up by that same amount, from $43.4 to $48 million.
What this means for Snow and the Isles, is that they will have no choice but to spend money this offseason. Alexei Yashin's buyout isn't going to float this team anymore, they're going to have to be aggressive in the free agent market or acquire players via trades. This is great news for Islander fans, and it should be a very exciting summer in Islander Country.
I will say this: It's not like Wang and Snow haven't tried to sign free agents in years past. The Isles haven't tried to be cheap, it's just that free agents are hard to come by on Long Island, largely because of the arena issue. Therefore, I do think it's more likely that the Islanders end up acquiring those new players by trading, but either way, it should be loads of fun to see what happens.
Comments are welcome.