The New York Islanders are still over $11 million under the salary cap floor, and though they'll inch closer to the league minimum after Blake Comeau, Josh Bailey, Ty Wishart and Dylan Reese are re-signed, it's just not going to be enough.
Whether GM Garth Snow decides to make a trade or add via free agency remains to be seen, but one thing's for certain: This team HAS to do something because the Islanders need to reach the cap floor.
At the start of free agent frenzy, teams were throwing money around as if it grew on trees. Now that the dust has settled a bit, I think you're starting to see more reasonable contracts being handed out, like the one Tomas Kaberle signed with the Carolina Hurricanes.
Yes, his stock dropped, largely because of his abysmal performance in Boston, but at the end of the day, Kaberle was still the cream of the crop (out of the UFA defensemen). He ended up getting a 3-year deal that will see him making the same amount per season as his previous contract.
Jamie Langenbrunner and Jason Arnott both signed one-year contracts with the St. Louis Blues. Both players will make $2.5 million in 2011-12.
These signings are definitely not coming cheap, but in comparison to the six-plus year deals that players were signing on Day 1, they might as well be considered bargains.
I can't begin to speculate just who the Isles would be targeting in a trade or what they'd be willing to give up. All I know is, if Snow wants to sign a UFA, his window of opportunity is closing. Having said that, there are still a handful of players on the market who could help this team.
Wingers
Cory Stillman, LW (Age 37)
His best days are behind him, but Stillman can still chip in 40-45 points when he stays healthy. He's missed 15-20 games in each of the last two seasons, but he still managed to put up 37 and 39 points in 2009-10 and 2010-11, respectively. He also has a Stanley Cup ring on his finger (obtained during the '05-'06 campaign with Carolina) which is always nice. Much like the Reasoner signing, Stillman would add much-needed veteran presence and leadership to the team.
J.P. Dumont (Age 33)


Dumont is a year removed from scoring 45 points and two years ago, he racked up 65. Though he's coming off a very disappointing season, there's every reason to believe he could reach 50 again. He was originally drafted 3rd overall by the Isles in 1996, so this would be a homecoming of sorts for Dumont, even though he never actually suited up for the team.
Alex Kovalev, RW (Age 38)
Kovalev's definitely not the same player he once was, and, much like the wingers just mentioned, he's really a 15-20 goal scorer at this point in his career. Has tons of experience though, and the idea of Kovy mentoring a young Kirill Kabanov does intrigue me quite a bit.
Sergei Samsonov, LW (Age 32)
There was a time when the sky really was the limit for Samsonov. Unfortunately, he's struggled to re-capture the scoring touch he once had, and he's only going to score 15, maybe 20 goals in a good season. Incredibly streaky, maddeningly inconsistent. He'll contribute on the scoresheet from time to time, but he doesn't have the other redeeming qualities (leadership, experience) that some of his colleagues on this list do. I don't think he's really worth much of a look from Garth Snow.
Nikolai Zherdev, RW (Age 26)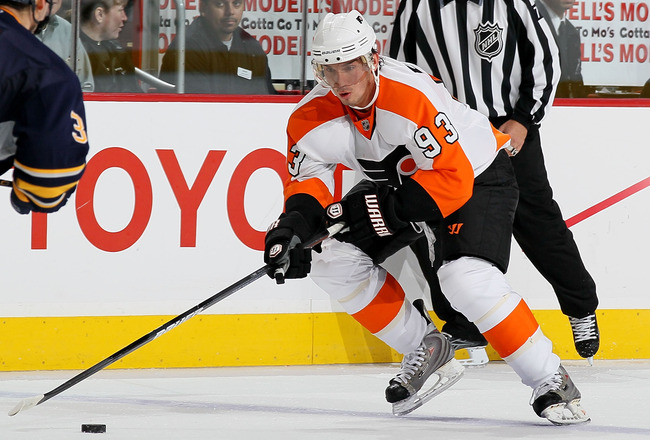 Highly-skilled but can never seem to put it all together, I think it's safe to say Zherdev's not a good fit for the Islanders, or most teams for that matter. Philadelphia has enough depth to be able to take a chance on this guy, a luxury the Isles simply don't have. Zherdev finished this past year with just 22 points (16 goals, 6 assists). If the Islanders need a 20 point forward, they can look to Matt Martin. Next.
Defensemen
Bryan McCabe (Age 36)
The former Islander could help this team out on the powerplay, but he's more of a specialist in that department at this stage of his career. Still has a strong shot from the point. Put up 28 points with Florida and the Rangers in 2010-11, and if the Isles can get 30 out of him, this would be considered a quality signing.
Scott Hannan (Age 32)
Not known for his offensive talent, but Hannan does have some size (6"1, 225 lbs) and plays a real solid defensive game. Could help the Isles on the blueline, especially in their own zone, which is something that's become a significant issue these last few years.
Shane O'Brien (Age 27)
O'Brien is very responsible in his own zone. Has sported a positive plus/minus rating in each of the last three seasons. O'Brien would add size (6"3, 230 lbs) and hockey sense to the Isles' defensive corps.
Nick Boynton (Age 32)
Boynton would add depth and experience to this Islander defense. Not as helpful as comparable players on this list (Hannan, O'Brien). Maybe he's a last resort option but if Snow doesn't need Boynton, he probably shouldn't be looking here.
Comments are welcome.