Positive vibes around Islander Country this morning, as TSN's Bob McKenzie reports that John Tavares and the Isles
are close to
have reached an agreement on
a six-year contract extension that would pay the 20-year old scoring sensation around $5.5 million annually.
Tavares becomes the third major puzzle piece to commit long-term, joining the likes of Michael Grabner and Kyle Okposo, who will both be here for the next five seasons.
Matt Moulson is signed for the next three, which isn't an extensive commitment, but a commitment nonetheless.
The only player that remains without a contract for the upcoming hockey season is Josh Bailey, and despite reassurances by both Irish Cream and his agent that the center is focused on remaining an Islander, this blogger remains skeptical that perhaps the feeling isn't mutual when it comes to Garth Snow and the organization.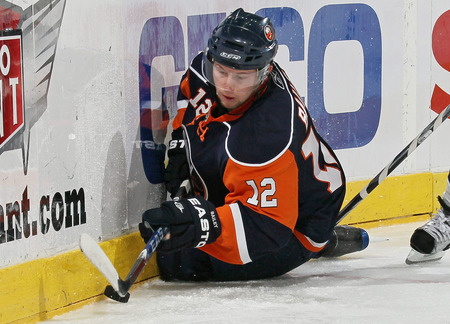 As Sean Bergenheim learned the hard way: You don't sign a contract before it's too late, you don't play for the Islanders that year. So the question is not whether Bailey will take the best offer he can get, because he probably will. The real question is, does Snow really want Josh on this team anymore, and is he simply waiting on the right deal to ship the Isles' ninth overall pick of 2008 out of town?
I could be completely wrong, but I still have to say I feel as if that's entirely the case. Bailey's time on Long Island is running out, and even if he signs and plays here this season, it's hard to envision where he fits in this lineup once Ryan Strome comes along.
Speaking of Ryan Strome, he looked flat-out spectacular last night during the Isles rookies' 7-2 romp of the Boston Bruins' first-years.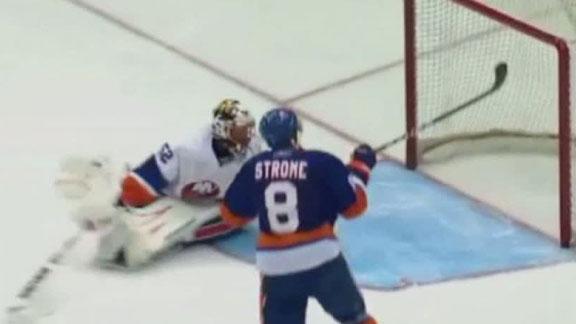 Strome found the back of the net twice and notched an assist on a goal by Nino Niederreiter (who finished with a goal and two helpers). He didn't miss a beat, and though he'll probably end up back in Juniors for the 2011-12 season, he's going to make it very tough for the Islanders' brass to send him there after training camp.
The chemistry between Strome and Niederreiter was evident throughout the contest, and I'd be incredibly surprised if we don't see those two on a line together playing for the Islanders in the future.
I will say that while Nino did finish with three points, he certainly made some mistakes and definitely has what to work on in training camp and, likely, over the course of his first full NHL season. He'll learn, but it might take some time. I'm happy with the way he played, but he still left me wanting more, I did feel like he should've been a bit more dominant, for a guy that absolutely tore apart the WHL in scoring last year.
Also clear as day was the fact that Calvin de Haan has not only improved, he's also stronger.
The Islanders wanted him to bulk up and did he ever. There were a handful of instances during last night's game where de Haan literally just shrugged off his opponents, knocking them off their feet and onto their backs. He looked sharp at both ends of the ice.
Casey Cizikas really impressed too. The Isles' rookies found themselves down a man several times, and the relentless Cizikas seemed to kill penalties by himself, he was that good. He also scored twice, which can never hurt either. He'll be an Islander within two years, you can count on it.
Another interesting story was Tyler McNeely, who played ten games with the Bridgeport Sound Tigers (AHL) last year and racked up eleven points in that hockey decathlon, better than a point-per-game pace.
McNeely scored on a gorgeous breakaway move to put the Isles ahead 1-0 in the first period, and then assisted on both of Strome's tallies. He had a really strong game and Garth Snow and the scouting staff may have unearthed a hidden gem in McNeely.
Justin DiBenidetto also scored for the Isles, while Kirill Kabanov finished with just one assist and was relatively unimpressive. He's got work to do if he wants to sniff the NHL anytime soon.
Goaltender Anders Nilsson turned in an excellent performance between the pipes, stopping 38 of the 40 shots fired in his direction. That of course would be the polar opposite of Mikko Koskinen's atrocious display two nights ago, which also took place at Nassau Coliseum, when seven pucks got past him out of just 14 shots by the Bruins' rookies.
Koskinen better shape up, or Nilsson could surpass him on the organizational depth chart. He has promise and showed it at times last season, but he needs to get back to that level to give himself any sort of chance to redeem himself.
These young kids really stepped up for one another, especially in the early stages of this contest. And by early, I mean two seconds in.
Within the first seven seconds of the game, three separate fights broke out, the first one coming at the :02 mark of the opening frame. These were likely sparked by the fact that Rhett Rhakshani, an Isles rookie, was concussed during that previous matchup between these two teams.
Strome, Nino and de Haan were high-flying in this one, and they'll have to continue the trend if they're to contend for roster spots. Even though Niederreiter is likely to make the team, it's not going to be handed to him on a silver platter, he has to work for it.
Comments are welcome.