Jay Pandolfo, a veteran of 13 NHL seasons (though he spent last season with Springfield of the AHL last year), has accepted a tryout invitation from Garth Snow and the Islanders.
Pandolfo has recorded 99 goals and 124 assists (223 points) over a span of 819 National Hockey League games. He has won two Stanley Cups, both with the New Jersey Devils. He has played in and knows how to handle pressure situations.
Some think that Jay's role is strictly to provide a veteran presence for the younger Islanders during training camp, only to turn in his uniform before the start of the regular season. I'd like to suggest otherwise.
Personally, I felt this was a smart move on the part of team management. If Pandolfo can still help, even a little, at the NHL level, the Isles should take full advantage. Sure, he's nothing more than a fourth-line checker, but I'd rather give him that spot and let someone like Matt Martin spend some more time in Bridgeport to work on his all-around game. Martin has an entire career ahead of him and, while he showed some promise last year, there's still room for improvement.
I would also take no issue with the Islanders signing Pandolfo and shuffling between him and Martin every so often, just to keep both players involved. There's no reason why Jay can't be a part-time minor leaguer and it sure beats last season, when he had to play in the AHL all year long.
To put this in perspective, if I have a choice between two players for that checking line role, I'll take the guy sporting two Stanley Cup rings over the younger work-in-progress. Pandolfo has a lot to add from a leadership standpoint and he'll show the Isles' young guns a thing or two about playing defensive hockey.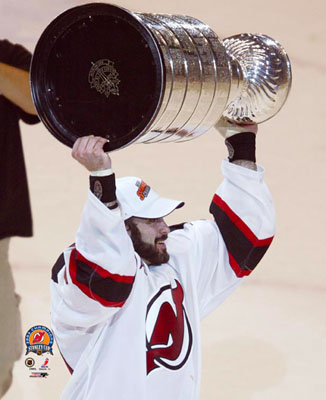 Another fact that cannot be ignored is Pandolfo's connection with Brian Rolston. Maybe I'm slightly overrating the situation, but I can't help but think that having a familiar face in the locker room bodes well for team chemistry and motivation.
Jay Pandolfo isn't just here to show up, say a few words and then leave. He's here to compete for an actual roster spot, and there isn't much that's going to convince me otherwise. Obviously, he'll have to prove he's still capable of playing at this level (don't focus on the offensive statistics, it's never been his thing and never will be), and if Martin is the better choice, then by all means, he should make the team instead.
I'm not suggesting that the Isles should just give Pandolfo a jersey for being a relatively accomplished vet. What I'm saying is, his experience and discipline can benefit the Islanders beyond training camp. Snow and Jack Capuano need to be cognizant of that when considering their multiple options.
Just to clarify, Alexei Yashin is skating at Iceworks, but he is not going to play for the Islanders at this point, nor will the team sign him. With Brian Rolston and nowJay Pandolfo, there are no more spots for a veteran forward on this roster. Take a deep breath and relax, Isles fans.
If they haven't already done so, the Islanders should invite defenseman Bryan McCabe to training camp, and I think he'd be a nice addition to the team, at least from a depth standpoint. I'd take him over Mark Eaton, I really would.
More to come, so stay tuned.
Comments are welcome.