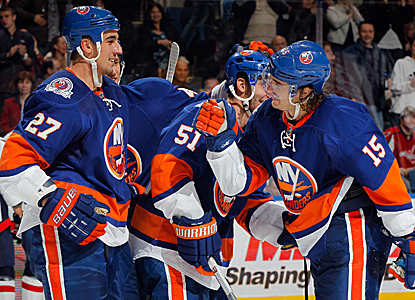 After falling behind 2-0 in the first period, it appeared the
New York Islanders
were headed for their seventh consecutive loss.
Joel Ward
threw a seemingly harmless wrist-shot past Isles goaltender
Rick DiPietro
, and later in the opening frame,
Alexander Ovechkin
blasted a one-timer that Patrick Roy wouldn't have stopped.
Washington was in cruise-control, showing no signs of slowing down.
To say that what occurred from that point on was surprising would be a gigantic understatement.
New York unexpectedly roared back with three goals of their own, and though Washington would tie the game at three-apiece, the Isles were able to take back the lead and hold on for their biggest victory of the season.
It all started with
Frans Nielsen
, jumping on his own rebound and sneaking a shot past Caps netminder
Tomas Vokoun
to put the Islanders on the board. It was Nielsen's third goal of the season.
Towards the end of the second period,
Brian Rolston
skated in wide of Vokoun and launched a cannon of his own to tie the game, 2-2. Six and a half minutes into the third,
Matt Martin
converted on a relentless effort in front of the net, giving New York a 3-2 lead.
It was short-lived though, as, just under three minutes later,
Brooks Laich
wired a wrister past DiPietro to tie the score once again. But with 1:56 remaining in regulation,
P.A. Parenteau
was able to slip behind Vokoun undetected and bury home a rebound off
Milan Jurcina's
point shot to put New York in front by a 4-3 margin.
John Tavares
would seal the deal with an empty netter, his eighth goal of the campaign, making it 5-3 in favor of the Islanders.
"I liked the way we stayed in it tonight,"
said Tavares, all-smiles after the win.
Rick DiPietro
might not have had the home crowd on his side, but the hockey gods were certainly smiling down upon him in this one. Making his third start in a row, DiPietro looked solid once again, stopping 25 shots en route to his first victory of the season.
Islanders' head coach
Jack Capuano
vowed he'd change up the lines after Thursday night's horrendous performance against the
Winnipeg Jets
. He did just that, and if last night was any indication, the new formula is working.
I always felt that
Michael Grabner
should be on a line with Tavares. Opposing teams have figured Grabner out; he's no surprise anymore and players are zeroing in on the Austrian speedster, so he needs to find other ways to break-away from the defense. With Tavares feeding him accurate stretch-passes, he'll be able to take off for the offensive zone, and he did that a bunch of times last night.
Grabner's promotion came at the expense of
P.A. Parenteau
, who was demoted to the second line. His response? A three point night, with one goal and two assists. Capuano wasn't surprised:
"PA played determined. He played well with Johnny and Matt Moulson and he played well tonight with Frans and Rolston. No matter what line he's on, he continues to play hard."
Speaking of three point nights,
Frans Nielsen
also had one, finishing with a goal and a pair of helpers as well.
But perhaps the nicest surprise was the superb effort by the Isles' defensive corps.
Andrew MacDonald and Travis Hamonic
were struggling mightily over the last several games, and showed no evidence of that against the
Capitals
.
Kudos to
Brian Rolston
, who finally notched his first goal as an Islander, and to
Josh Bailey
, who finally registered his first point of the campaign, with an assist on
Matt Martin's
third period tally.
This was easily the Isles' most complete effort of the season , and it was as much a statement as last year's 9-3 blowout of the
Pittsburgh Penguins
.
Offered the coach:
"It was a relief for the guys. We believe in one another. It was a good win. Everybody's giving more."
For the New York Islanders, the key is to build off the momentum they've generated from this game. If they can do that, they're going to win a lot more hockey games.
"Tonight was the best way to handle adversity,"
Tavares said.
"We'll learn from it and carry this into the next game."
That you will, John.
Comments are welcome.