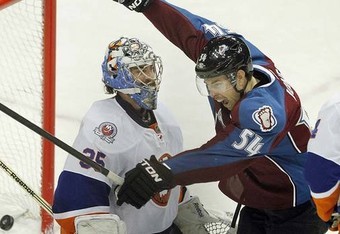 For Islander fans, last night's game in Denver was an absolute nightmare.
New York got off to a great start and played arguably their best hockey of the season through 40 minutes of regulation time. Things seemed to be going their way (except for the phantom tripping call on Brian Rolston), the offense was clicking, the defense hadn't missed a beat and Al Montoya was sharp between the pipes.
The Islanders were jumping all over this Colorado team from the get-go, and really appeared to be on the verge of a big victory.
I have a philosophy that timely goals are infinitely more effective than goals scored in the middle of a period. To me, the two most opportunistic times to cash in offensively are in the opening five minutes of the frame and the final five.
The Islanders were able to find the back of the net twice in such fashion.
First it was Josh Bailey's deflection of Mark Streit's point shot with 4:24 remaining in the 1st period, putting the Isles ahead 1-0. That goal was huge for two reasons: (1) It was a powerplay goal for a unit that was desperate for any sort of confidence booster and (2) it was Bailey's first goal of the season, and perhaps just what the '08 1st round pick needed to get his game going.
Then, just 34 ticks into the middle stanza, Brian Rolston finished off a beautiful passing play, orchestrated by linemates P.A. Parenteau and Frans Nielsen, extending the lead to 2-0. It was Rolston's second tally in his last three games.
Michael Grabner would notch his fifth goal of the season off an excellent feed from Matt Moulson, putting the Isles ahead 3-0 with 12 minutes to play in the 2nd period.
In case you haven't noticed, and that wouldn't necessarily be your fault (he's so fast, if you take your eye of the screen for a second he could be at the other end of the ice), Grabner's back in business, and he's getting plenty of chances to score.
He's also gotten much better at controlling the puck, which is a huge plus for him, because if he can hold onto the biscuit, he can breakaway from defenses and create opportunities for himself.
Colorado was in complete disarray, and it's easy to say that's the reason for the Isles' early success in that game. But good teams are able to take advantage of their opponent's miscues, and, at least through two periods of play, New York had done just that.
The Avs were peppering Al Montoya with shot after shot, only to be turned away by the Isles' netminder, who made 47 saves through 62 minutes of work.
On defense, the Islanders impressed as well. Andrew MacDonald and Travis Hamonic have definitely been playing much better hockey since the start of the season, and they continued to do so last night, despite the outcome of the game.
It was the way I envisioned this team should have performed all along, and here I thought they'd finally shifted into high-gear.
How wrong I was.
Moulson and Jay Pandolfo both took penalties late in the second period, giving Colorado a 5-on-3 advantage. Paul Stastny wasted no time making the most of the situation, finding the top shelf to put the Avs on the board.
New York still held a 3-1 lead, but you could just sense the game was slowly, but surely, slipping away.
And did it ever. The Islanders were on their heels for practically the entire third period, doing less playing and more watching. That would have disastrous consequences, as Colorado stormed back to tie the game, courtesy of goals by Milan Hejduk and Jan Hejda.
Hejduk's goal was one that Montoya absolutely should have stopped, but he's still not to blame for this loss. He made 47 saves, and was the only reason the final score wasn't 9-3, to be perfectly honest.
Many would argue that Montoya was also at fault for Hejda's tally. I'm 99 percent certain that shot changed direction, likely off Mark Eaton or Mike Mottau, making it difficult for Al to be in position to stop it.
In overtime, Montoya was called for high-sticking, putting the Avs on the powerplay. It wouldn't take long for them to mercifully end the game, as Kyle Quincey scored 46 seconds later to give Colorado the win.
The Isles were stunned, but they really shouldn't be. When you don't play 60 minutes and you allow 51 shots-against, no lead is safe. It doesn't matter whether it's 3-0 or 5-0. Any sensible opponent will make you pay dearly for an incomplete effort such as the one the Islanders turned in last night.
It's clear as day that GM Garth Snow needs to make a change, and he needs to do it sooner rather than later. There's still time to turn things around, but not as much as they previously had. Time is running out, and he has to make a move to improve the defense.
Comments are welcome.